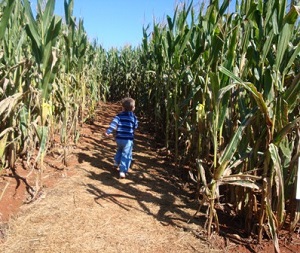 Looking for a local corn maze or hayride in Columbia Area of Tennessee? Scroll down this page and you will see the all of thoses in Columbia Area of Tennessee, sorted by county. Some are huge corn mazes with hayrides, pumpkins, corn cannons, inflatables and others are simple corn mazes with little else. Most also have loads of pumpkins to choose from. To really make it fun for your kids, look for those that have the extra activities, like a corn cannon, cow train, inflatables, farm animals, pumpkin patch or zip lines. There is usually a small fee for the mazes (of course, the more elaborate mazes tend to charge more. Hayrides are often free. ALWAYS call before you go to confirm the info, they don't always report changes to me!
Especially this year, due to Coronavirus, be sure to click on the links to confirm this year's dates and activities; many have cut back on activities. Corn mazes tend to be open, pumpkins are usually for sale. Mostly, it is things like festivals, inflatables and groups activities that are restricted in 2020. If they don't have a website or Facebook page, call email them directly or call the phone number provided, but ALWAYS CONFIRM THIS YEAR'S DATES AND TIMES BY BEFORE YOU GO.
And if you know of one I missed and want to add it or correct the information, please let me know! There are affiliate links on this page. Read our disclosure policy to learn more.
Updates for April 2021
April: Many corn mazes are open now, just scroll down the page. And if you are looking for a pumpkin patch, this website for pumpkin patches). You may also want to try the latest fun, Zombie Paintball, see this website!.
Corn mazes, sorted by county
Click on Resources above, if you need a county map
Bedford County
Cedar Rock - corn maze, straw or hay bale maze, pumpkin patch-pick in the field, pumpkin patch- already gathered from the field, child-sized haybale maze, tractor-pulled hay rides, snacks and refreshment stand, restrooms, picnic area, farm animals
1326 Warner Bridge Road, Shelbyville, TN 37160. Phone: 931-684-9814. Email: cedarrock94@aol.com. Open: Call or email for dates and hours. Directions: We are located just 28 miles from Murfreesboro and about an hour from Franklin. For specific directions visit our website. And for a map to our farm, click here. Crops are usually available in October. Payment: Cash, Check. (UPDATED: September 13, 2016, JBS) (UPDATED: August 08, 2012)
Coffee County
Morrison Acres - corn maze, pumpkin patch-pick in the field where they grow, pumpkin patch- harvested and laid out on the ground or lawn, Fall festival, cow train / barrel train rides, straw or hay bale maze, child-sized haybale maze, tractor-pulled hay rides, concessions / refreshment stand, porta-potties, picnic area, picnic area (bring your own food), jumping pillow, trike track, petting zoo, farm animals, birthday parties, group reservations, events at your location (call for info)
1075 Pocahontas Road, Morrsion, TN 37357. Phone: (931) 287-4942. Email: morrisonacres@yahoo.com. Open: Wednesday, by request; Thursday and Friday, from 5 pm to 10 pm; Saturdays, from 10 am to 10 pm; September 15 to November 4. Directions: 1075 Pocahontas Road Morrison, Tennessee 37357. Click here for a map and directions. Halloween open from 3 pm to 10 pm;. Payment: Cash, Debit cards. Click here for our Facebook page. (ADDED: August 23, 2017)
Franklin County
Grandaddys Farm - corn maze, pumpkin patch, hayrides, farm market, honey
1165 Highland Ridge Road, Estill Springs, TN 37330. Phone: 931-327-4080. Email: dixons@GrandaddysFarm.com. Open: 2010 Hours of Operation Fall Market September 11th to October 30th Tuesday-Saturday 9:00 am to 6:00 pm (The Fall Market is also open during Family Fun activities.) Family Fun Activities September 24th to October 30th Weekdays Tuesday- Thursday 1:30 pm to 6:00 pm Friday 1:30 pm to 10:00 pm Saturday 9:00 am to 10:00 pm Closed Sunday & Monday Concessions available during Farm Activity times. . Directions: See their website for directions. Payment: . Small petting zoo, covered picnic area, corn maze, hay ride, two awesome slides, a "corn box", 3 GIANT Tire swings, 2 pumpkin patches, a goat walk, and other activities as scheduled on special days. 40-foot Hillside Slide. During the visit, the kids will have a great time on the tire swings, taking part in the duck races, winding though the straw maze, and hiking the nature trail. Do not forget all the fresh quality produce available in the fall market. Grandaddy's honey is a local favorite and tends to sell out quickly, so make sure to come to the market early in the fall season. Pumpkin Patch Hayrides are our most requested activity! On Saturdays, from 10:30 am until 4:30 pm leaving hourly, the hayride will take you to the farm's pumpkin patch where you may cut and pick your own special pumpkin. On the way to the pumpkin patch they hayride will pass through our new Gourd Trellis Tunnel were we are now growing some of our gourds. This year we are adding a Pumpkin Patch Hayride at 5:00 pm on Fridays. Moonlight rides are great to relax and enjoy the night sounds under the stars. Hayrides leave at 6:30 pm, 7:30 pm and 8:30 pm. (UPDATED: September 13, 2016, JBS) (ADDED: October 20, 2010, suggested by a visitor)
A visitor writes on October 20, 2010: "We went on a field trip with my four year olds pre school class, he had a blast and we will be returning again before the end of this season"
Giles County
Limoland - Corn maze,
8076 Columbia Highway, Pulaski, TN, 38478. (UPDATED: September 13, 2016, JBS)
Grundy County
Lawrence County
Farmer Brown's Produce -

Registered naturally grown

, corn maze, pumpkins, pumpkins for sale in the shop or farmstand, pumpkin patch-pick in the field, pumpkin patch- already gathered from the field, we also have pie pumpkins, Fresh eggs
43 Railroad Bed Road, Iron City, TN 38463. Phone: 931-242-8033. Alternate Phone: 931-845-4219. Email: keelan@FarmerBrowns.org. Open: We are open for farm tours anytime with a phone call in advance; We welcome everybody to come visit us and see how we're doing; Please call in advance. Directions: Click here for a map and directions. We are registered naturally grown for all crops. Payment: Cash, Check. Click here for our Facebook page. (UPDATED: September 13, 2016, JBS) (ADDED: April 26, 2012)
Holiday Acres Farm - corn maze, pumpkins, pumpkin patch- already gathered from the field, child-sized haybale maze, gift shop, snacks and refreshment stand, picnic area, tractor-pulled hay rides, petting zoo
346 Campbellsville Pike, Ethridge, TN 38456. Phone: 931-829-2660. Email us at: farmerbrown@holidayacresfarm.com. Directions: 2.5 miles east of Hwy 43 in Ethridge, TN on Campbellsville Pike. Click here for a map to our farm. Crops are usually available in September, October. Open: Friday 5 pm - 9 pm; Saturday 10 am to 9 pm; Sunday 1 pm - 5 pm; Weekdays by appointment only; September 17 through October 31. Payment: Cash, Check. Located in the beautiful Amish country of Lawrence County, Tennessee! (UPDATED: September 13, 2016, JBS)
Lewis County
Lincoln County
Lyon Family Farms - corn maze, hayrides, pumpkins, pick your own pumpkin, petting zoo, farm playground, picnic area
130 Bellview Road, Taft, TN 38488. Phone: 931-205-1853. Email: slyon@fayelectric.net. Directions: Click here for a map. Open: September 22 thru October 31. Class tours are given Monday through Friday, 8:00 a.m. to 2:00 p.m. Call today for group rates and available times 15 Acre Pumpkin Patch with over 50 Varieties of Pumpkins! Interactive Corn Maze with New Game-Farm Scene Investigators! Large Corn Maze, Redneck Wind Chimes, Ball Zone & Pumpkin Blasters, Pig Races and Cow Train, Rubber Duck Races, Monster Slide and Barrel Swing, Play Areas - Huge Slides, Rat Races & Hay Bale Maze, Tractor Pulled Wagon Rides, Kiddie Corn Maze, Giant Pillow Bounce, Great Foods, Farm Animal Petting Zoo, Cow Train & Much More!They also have concessions, a baby animal petting zoo, a large animal barn, playground and more. In the baby animal petting zoo the children can feed the animals themselves. The large animal barn is filled with horses, sheep, goats, cows, chickens, and even a pig; with signs above each stall explaining what products you get from the animals, their use on the farm, and each animal's proper name. Teachers and chaperones can eat from our grill hamburgers, hotdogs and grilled corn. Soft drinks and other snacks are also available. A head count is needed beforehand. Bring your class by for a field trip this season; no group is too big or too small. (UPDATED: September 13, 2016, JBS)
Monks Market and Corn Maze - corn maze, pumpkins
42 Smith Road, Fayetteville, TN 37334 . Phone: 931-433-6913. We have eight acres of pumpkins and a seven acre corn maze. We also have 25 acres of public fishing. You can also buy a pumpkin at Monks Market Roadside Stand. We also have musical entertainment on the farm. Special celebrations are held July 4, September 1, and October 15. Toward the end of the fall season we will have a haunted maze and a small child's maze. Come see us. Directions: We are located north of Alabama 5 miles. Call for directions. (UPDATED: September 13, 2016, JBS)
Marshall County
Chapel Hill Haunted Woods - haunted rides, haunted trail,
2605 Ezell Rd, Chapel Hill, TN 37034. Phone: 931-212-3690. Open: 7pm to 11pm Saturdays in October. Click here for current open hours, days and dates. Directions: Chapel Hill Haunted Woods are just 30 minutes from Murfreesboro, Franklin, Columbia and Shelbyville. We're 40 miles south of Nashville, Tennessee. We are accessable from I840 or I65. From 840 take exit 42 South on highway 31A. In Kirkland, keep right toward Chapel Hill. At 2nd traffic light (beside post office), turn left. Go 1.2 miles and haunt will be on the right. Look for signs and listen for the screams. Click here for a map and directions. Payment: Cash, only. Mapquest or Google map directions with 2723 Ezell Rd, Chapel Hill, TN. GPS coordinates are 35.62753 and -86.67189. (ADDED: October 05, 2011)
Maury County
Ring Farm - pumpkins for sale in the shop or farmstand, Zombie paintball, corn maze, haunted corn maze, kiddie (mini) corn maze, corn cannon, tractor-pulled hay rides,
2628 Greens Mill Road, Columbia, TN 38401. Phone: 931-486-2395. Alternate Phone: 615-207-5768. Email: ringfarmzombiepaintball@gmail.com. Open: Friday and Saturday 7:00 pm to 12:00 am September 9th to September 30th Friday 7:00 pm to 12:00 am Saturday 10:00 am to 12:00 am Sunday 12:00 pm to 11:00 pm October 1st to November 5th. Click here for current open hours, days and dates. Directions: For a map to our farm, click here. Payment: Cash, Debit cards, Visa/MasterCard, Discover, AmEx. Click here for our Facebook page. Paintball field. (ADDED: August 17, 2016)
Rippavilla Amazing Maze - Corn maze,
5700 Main Street, Spring Hill, TN, 37174. (UPDATED: September 13, 2016, JBS)
Moore County